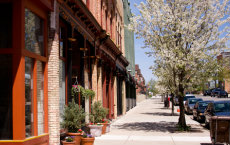 Commercial Real Estate Loans
A commercial real estate loan can make it easy and affordable to purchase, refinance, or renovate any business space. F&M Bank gives you an advantage with flexible financing options, competitive rates, and low monthly payments.
Because our loan decisions are kept within the Oklahoma City area, you get fast results. Add the expert, personal service you already know from F&M Bank and you have a winning combination. Come by today and move into your new space tomorrow!
Summary

Purchase existing buildings or land to develop
Refinance an existing commercial loan
Renovate or expand your existing space
Competitive rates
Low monthly payments
Money provided as upfront lump sum
Flexible down payments
Quick decisions made by your loan officer in your local office
Courteous, personal service