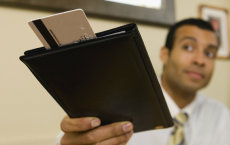 Business Debit Card
Simplify your business expense tracking. Use your F&M Bank business Mastercard® debit card to make all purchases and keep a neat record of all your transactions. You can also use it to withdraw cash any ATM, anytime, for extra convenience.
Using your card is faster than checks and safer than carrying cash. And because you can use it anywhere Mastercard® is accepted worldwide, it makes business travel easier. Keep your purchasing power neatly tucked in your wallet for any business expense!
Summary

Free with your F&M Bank business checking account
Use it anywhere Mastercard® is accepted
Faster than writing checks
Safer than carrying cash
Access cash at any ATM, anytime
Make expense tracking and business travel easier
Easily replaced if lost or stolen

To activate your card, please call 1-866-985-2273 or our Debit Card Department at 405-348-1500.