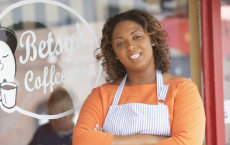 Small Business Loans
Oklahoma City and its surrounding communities are a rich ground to grow a variety of industries. At F&M Bank we help small businesses thrive, offering small business loans with some of the most competitive rates and flexible payment terms in the area.
We also offer Small Business Administration (SBA) loans, which may be easier to qualify for than traditional lending. Let our team of experts guide you every step of the way, so you can get the best loan to fit your needs, quickly and painlessly.
Summary

Low, competitive interest rates
Flexible payment terms
Low down payments
Quick decisions made by your loan officer in your local office
Courteous, professional service you trust
SBA and USDA loans available
Guaranteed and backed by the U.S. Small Business Administration
Easier access to funds, even if you don't qualify for traditional lending